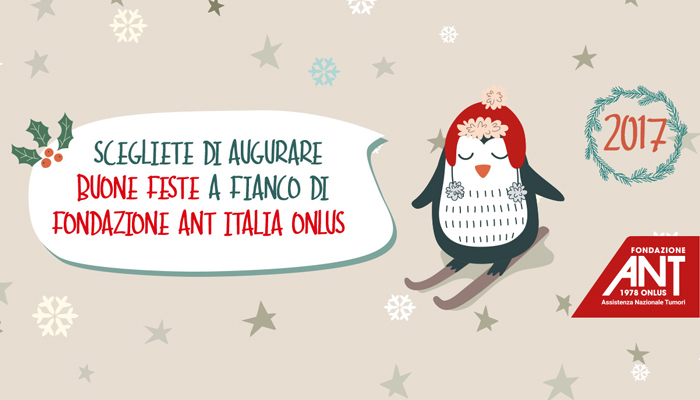 Domenica 17 dicembre fotografi e scrittori per ANT
Eventi per le Feste a sostegno di Fondazione ANT
Domenica 17 dicembre fotografi e scrittori volontari per un giorno
Doppio appuntamento con la solidarietà domenica 17 dicembre grazie alle iniziative di Be Basic Studio e Canto 31 a favore di Fondazione ANT.
Si comincia alle ore 11 allo studio Be Basic di via Azzurra 49/a per la terza edizione dei Ritratti fotografici per Fondazione ANT. Come ogni anno il fotografo Roberto Bersani metterà a disposizione per tutta la giornata (fino alle 18) la sua professionalità: single e famiglie, bambini o amici a 4 zampe sono i benvenuti per una foto ricordo a offerta libera. Le donazioni raccolte saranno destinate a sostenere l'assistenza specialistica domiciliare che ogni giorno i medici ANT portano nelle case di 1.500 persone a Bologna e nella sua provincia. Portando la propria chiavetta usb le foto saranno consegnate al momento.
Alle ore 19 tutti al Black Cat Pub di via Saragozza 83/d per una serata Scrittori per ANT promossa da associazione Canto 31. Maria Silvia Avanzato, Max Collini, Gianluca Morozzi, Zap & Ida daranno al pubblico qualche prezioso consiglio sui libri da regalare a Natale. Parte del ricavato dei libri del book corner – a cura della Libreria Trame – verrà devoluto a Fondazione ANT, presente alla serata con una postazione. Info e prenotazioni: 051/0567070 – 338/1431367 – info@canto31.it
Fondazione ANT ringrazia di vero cuore gli amici, professionisti e autori che, spontaneamente, mettono a disposizione tempo e talenti per contribuire a portare assistenza, anche durante le Feste, nelle case di chi è malato.