Movember in Jazz: Fabrizio Bosso & Julian Oliver Mazzariello presentano "Tandem"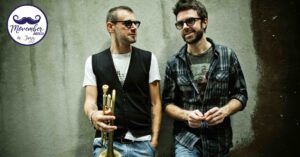 In occasione di Movember Brescia 2017 giovedì 16 novembre si terrà a Manerbio presso il Teatro Politeama il concerto jazz del trombettista Fabrizio Bosso e del pianista Julian Oliver Mazzariello. Un evento straordinario per raccogliere fondi a favore di Fondazione ANT a sostegno dei progetti di prevenzione dei tumori maschili.
L'inedito duo presenterà "Tandem", l'album uscito nel 2014 che ripercorre e rinterpreta grandi canzoni e temi della musica internazionale, senza distinzione di genere: da "Oh Lady Be Good" di George Gershwin a "Luiza" di Antonio Carlos Jobim, dall'omaggio al grande Michel Legrand in una versione di "Windmills of your Mind", al tema di "Taxi Driver" di Bernard Herrmann, brani che confermano nuovamente, dopo l'interpretazione di Nuovo Cinema Paradiso, l'omaggio a Nino Rota e la sonorizzazione de Il Sorpasso, la fascinazione di Fabrizio per il mondo del cinema. Non mancherà spazio anche ai brani originali con Wide Green Eyes e Dizzy's Blues di Fabrizio Bosso e Goodness Gracous di Julian Oliver Mazzariello.
Biglietto ingresso € 14. Info e acquisto: tel. 3421470258 | 3896716066 | delegazione.brescia@ant.it.
Con il patrocinio e il contributo del Comune di Manerbio. Con il sostegno di GHIAL.
Segui la pagina Facebook Movember Brescia per tenerti aggiornato sul calendario eventi.