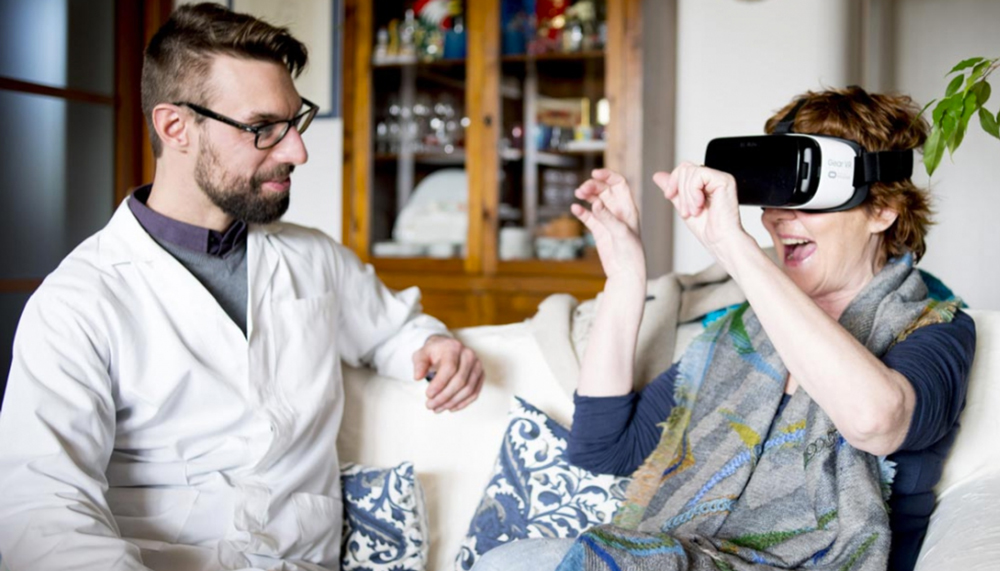 Migliorare la qualità della vita dei pazienti oncologici e ridurre l'impatto negativo che l'isolamento socio-sensoriale può avere su di loro è l'obiettivo di The Look of Life. Si tratta di un progetto di realtà virtuale ideato da Fondazione ANT e dall'associazione culturale Menomale, che si occupa di esplorare le nuove possibilità di linguaggio offerte dalle innovazioni tecnologiche digitali, in collaborazione con il Centro di Ricerca HIT – Human Inspired Tecnology Reasearch Centredell'Università di Padova diretto dal professor Luciano Gamberini.
Il progetto ha lo scopo di valutare l'esito clinico e l'utilizzo a domicilio di una tecnologia innovativa con i visori Gear Vr che permettono la fruizione di video immersivi a 360°.
Diversi studi ne hanno già dimostrato le potenzialità nell'alleviare e migliorare alcune particolari condizioni cliniche e psicologiche, legate a patologie oncologiche o altre malattie croniche invalidanti: in questo caso la realtà virtuale verrà portata direttamente a domicilio dei pazienti.
Un team di psicologi si recherà nelle case dei pazienti in assistenza con Fondazione ANT per valutare l'effetto di questa tecnologia innovativa e di crescente diffusione sottoponendo loro video tridimensionali selezionati fra quelli presenti in rete e alcuni creati ad hoc.
Le esperienze proposte, alcune personalizzate in base ai desideri dei pazienti, hanno la potenzialità di regalare un momento rilassante, risvegliare l'attenzione e il piacere della scoperta attraverso emozioni come la meraviglia, la gioia e lo stupore che spesso la malattia rischia di allontanare dalla quotidianità del malato e dei suoi famigliari.
La malattia oncologica, infatti, oltre a minare la salute fisica e l'autonomia del paziente, si accompagna spesso a dolore, sintomi ansiosi e depressivi anche clinicamente significativi, in grado di compromettere gravemente la qualità di vita della persona malata e del suo ambiente familiare, ostacolando l'aderenza al trattamento, l'efficacia delle terapie e peggiorandone la prognosi clinica.
Le fasi avanzate della malattia sono poi caratterizzate da una perdita progressiva dell'autonomia funzionale, costringendo il paziente a una condizione di isolamento forzato e di deprivazione sensoriale e relazionale.
La riduzione delle occasioni in cui è possibile sperimentare emozioni positive e interazioni sociali significative corrisponde spesso ad una intensificazione delle preoccupazioni e dei pensieri ossessivi, che a loro volta aumentano lo stress e si collegano ad ulteriori esperienze emozionali negative.
Si può creare così un circolo vizioso che, in mancanza di un intervento rapido ed efficace, rischia di peggiorare sempre più la qualità di vita della persona.
Utilizzare i sistemi multimediali virtuali è quindi un modo per affiancare i trattamenti farmacologici nell'aiutare questi pazienti a gestire ansie, dolore, momenti di sconforto o di panico, depressione, stress provocando un conseguente miglioramento delle condizioni di vita personali e relazionali.
Vai al sito www.lookoflife.it
Guarda il video immersivo che racconta l'esperienza di assistenza specialistica domiciliare con  Fondazione ANT:
.